The Shoshone Retreat is a vacation cabin for rent located only twenty minutes from the west gate of Yellowstone National Park. The cabin is actually in a town called Island Park Idaho and is part of a golf course community known as the Island Park Village Golf Resort.
This cabin truly provides the best of both worlds. While you have access to a golf resort, The Shoshone Retreat is nestled away at the end of the resort on a private dead end secluded street. The scenery located all around the cabin and the Island Park area is majestic to say the least as you find yourself deep in the heart of rugged mountain terrain.
If you're not familiar with Island Park it is truly and extension of the wild frontier that you will experience as you visit America's first and best national park. Island Park is a great place to visit both in the summer as well as the winter.
This area is known for world famous fishing. One of my favorite things to do here is to ride ATV's and trust me when I tell you it's amazing I promise you won't be disappointed. You can also go hiking, mountain biking or float the river near Macs Inn. During the winter some have called Island Park the snowmobile capital of the world as you will have access to over 700 miles of groomed trails. Many tourists also enjoy snowshoeing or cross country skiing.
Vacationing here is about making memories that will last a lifetime. I love this area and highly recommend that you come for a visit.
About the Cabin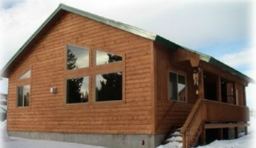 The Shoshone Retreat is very charming. It has three beautifully decorated bedrooms a full kitchen and two full baths. The cabin also has a great room, mud room as well as a washer and dryer. Put your mind at easy and get ready to enjoy your stay as the cabin is loaded with all of your bedding and kitchen needs.
Because our cabin is located on the golf course community if you choose to purchase a visitor pass you can enjoy all of the amenities at the clubhouse. These amenities include wireless internet, tennis courts, racket ball courts, 9 hole golf course, a weight room and more. http://www.islandparkvillageresort.com.
The cabin is designed with the kitchen as the center of the cabin with the other rooms surrounding it creating an open look and feel. It has all of your appliance needs including a stove, microwave, fridge, and dish washer. If you like to grill on the deck we have a propane BBQ grill that you can use to grill up some steaks or fish that you caught from a nearby river or lake.
When considering staying in a hotel or renting our cabin consider how much money you will save preparing your own meals vs. eating out every meal. I don't know about you but a sack lunch that you take with you to Yellowstone is a lot easier on my budget than the high priced food that you will pay at any popular tourist destination. Instead of paying for pancakes bacon and eggs every morning I am sure that the kids will do just fine with a box of Lucky Charms.
In the great room there is a river rock fireplace this area is perfect for playing a board game, reading a book, or just relaxing. If you are in the mood to watch a movie you can do that too as you will have access to a 42" inch plasma television and DVD player. In the great room you will find two big picture windows perfect for viewing the beautiful scenery that surrounds the cabin. I love to just stare out the windows and enjoy natures beauty. During the winter the view from these widows is breathtaking as you watch the giant snowflakes fall from the ski. It really is cool maybe even therapeutic. so if you are looking to get away from the stresses of everyday life then you really need to schedule time away from work and enjoy the calm and tranquility offered in this majestic area.
The Shoshone Retreat's Affordable Rates
The rate for the cabin is $200 a night with a three night minimum. If you choose to stay for a full week we will give you a night free only charging you $1,200 for the week. A $400 dollar deposit is required when you make your reservation. There is also an $85 dollar cleaning fee as well as an 8% tax that is not included in the rate.
Call NOW! Don't Wait As We Book Up Fast During The Summer

I am sure that you would agree that there are many advantages in booking at The Shoshone Retreat vs. staying in a hotel. Just so you know summer is our busy season and we usually book up fast. So if you are interested in staying here give us a call now! Every year we end up not being able to accommodate everyone that calls us. So don't wait call us now at 801-866-2065. We can also be reached by email at brianhahne@yahoo.com.